By Shelley Nelson/Superior Telegram  published 11/29.2016 here.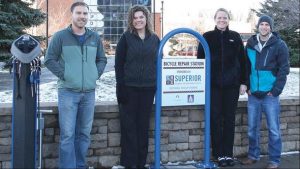 Superior has a first in Center City Park — a station where bicyclists can stop to make needed repairs to their bikes.
Sponsored by the Superior Business Improvement District, installed the station was the idea of a group during last year's Superior-Douglas County Leadership program.
The idea for the station came from Brock Flowers, who worked with Logan Saline, Brent Eliason, Dan Hruska and Ian Vincent to bring the project to reality.
"For the type of people all of us are — a little more outdoorsy, we picked a project that we were interested in as well," Eliason said. "It's kind of like a gas station for your bike."
And trends are changing.
"A lot of people commute on bikes, but not many people carry the tools with them in case something happens — a tire goes flat, a chain throws," Saline said. "This gives them an option to fix it."
Even people who aren't sure how to fix a problem on their own can get instructions on their cell phone by scanning a QR code on the station, he said.
As a graduate of the leadership program in 2013, BID director Lindsey Jacobson said she learned about the project when the group gave its presentation.
"They were talking about how biking has become such a big thing over in Duluth and it's such a great outdoor city," Jacobson said. "So are we. We have bike trails and there's lots of things for people to do. So they wanted to start implementing some of that stuff over here."
So she took the idea to her board of directors.
"One of the things we want to do is support people getting out and about," Jacobson said. She said the board was happy to sponsor the station.
The station was then gifted to the city of Superior for the long-term care and maintenance, said Linda Cadotte, director of forest parks and recreation for the city.
The leadership group is hoping the station at Center City Park is just the first of six stations that will be installed around the city — including one at the Millennial Trail, Heritage Park, Marcovich Wellness Center at the University of Wisconsin-Superior, and two along the Osaugie Trail at Barker's Island and Bear Creek Park, Saline said.
However, the group needs sponsors to make that a reality.
Anyone interested in sponsoring a bike repair station can contact Saline at l_saline@hotmail.com.