WHO MAKES THE MOST "SUPERIOR" PIZZA IN THE DISTRICT?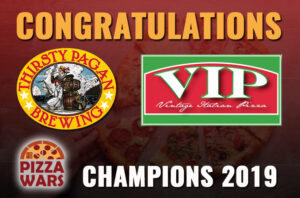 We knew it was going to be a close competition, but had no idea it would be this close. The winner of the 2019 Pizza Wars is . . . A TIE!  Congratulations to Thirsty Pagan and VIP as being voted the co-champions for this year's competition. Apparently they both make the "most Superior Pizza" in the District. Congratulations to our winners and all of our fabulous competitors for their delicious offerings. It was truly an amazing contest this year and we so appreciate the community's support for these great businesses.
The 2019 competition offered a stellar field of savory flavors and even a sweet option! Participating entries included:
Empire Coffee – 1204 Tower Avenue     (715) 718-0926
BBQ Chicken Flatbread: Classic combination of grilled chicken, golden cheddar cheese, and a sweet zesty barbecue sauce on a fluffy flatbread, optionally with red onions.
Sammy's on Tower – 1908 Tower Ave.  715-395-0018
T-REX Special: All 7 meats we have! (except for seafood: tuna & shrimp). Never been on our menu! Pepperoni, Ham, Ground Beef, Sausage, Kosher Salami, Chicken, Bacon (and of course, mozzarella cheese).
Thirsty Pagan Brewing – 1615 Winter St.   715-394-2500
Fall Roasted Veggie Za': This fall inspired Roasted Veggie Za' starts off with a garlic infused oil base. Then we add a seasonal house-made medley comprising of squash, red potatoes, red onions and carrots. Covered with melty mozzarella, and dollops of ricotta, then garnished with fresh rosemary!
Twisted Pastries Coffeehouse – 1418 Tower Avenue  (715) 394-2207
Sweet Pizza: Delicious pastry crust with fresh fruit, chocolate or cinnamon flavors and topped with whipped cream.
Vintage Italian Pizza – 1201 Tower Ave.   715-392-5555
Chicken Pesto Flatbread: Enjoy the flavors of Tuscany on this combination. Fresh pesto, chicken, artichokes, tomatoes and mozzarella cheese.
Thank you for supporting our local restaurants!