Small Business Saturday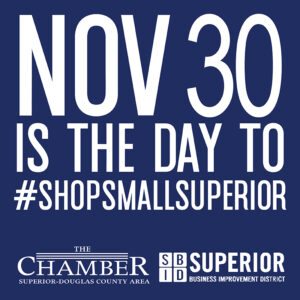 The Superior Business Improvement District and Superior-Douglas County Area Chamber of Commerce are teaming up again to promote Small Business Saturday on November 30, 2019 in an effort to continually support and promote our local small businesses!
In the coming weeks, the two organizations will work together to market this national shopping holiday (held every year on the Saturday after Thanksgiving and Black Friday) on a local level. We will do the promoting, but we need you to be on board for this FREE promotion! Here's how it works:
1.) Let us know that you're on board! Complete the form below and we'll list your promo on the Chamber and SBID websites.
2.) We'll give you some goodies. We're putting together posters, social media graphics, and more to help promote the day. Plus, American Express is sending us promotional items to divvy up and give to participating
businesses. Please be on the lookout for more information regarding when to pick up your SBS "Swag."
3.) Promote, promote, promote! Use the marketing materials we give you to help us promote Small Business Saturday. We'll give you instructions for your marketing kit, but we'd love for you to get creative! The Chamber
and SBID will work together to do press interviews, social media ads, email advertising, and more to help promote Small Business Saturday.
4.) Celebrate Small Business Saturday. On Saturday, November 30 shoppers and diners will be out in full force! Be sure to keep up the hype, and stamp Small Business Passports for the prize drawing entry (see below for details).
In addition to our promotional efforts, we're organizing a prize drawing for customers. Each participating business will receive Small Business Saturday passports to hand out to customers. They are to get their passports marked by at least four different participating locations in order to enter the drawing. We'll give you all the materials and instructions that you need.
If you're interested in participating in Small Business Saturday, please complete the form below. You have until Friday, November 15, 2019 to register!
Last year's Small Business Saturday promotions were very successful with over 45 local businesses participating, garnering lots of local media and shopper attention. Let's make it another great year!