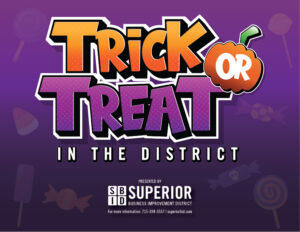 Spooky season is here so it's time once again for Trick or Treat in the District! This year's event will be held on Friday, October 21st from 2-5 pm. Participating SBID businesses offer treats for the kids and as always, fabulous shopping for the adults.
Sign up below if you wish to be listed as a Trick-or-Treat stop. Be sure to download and display a copy of our Trick-or-Treat Stop flyer to draw people in!
With Covid-19 still being an issue, we know that businesses will have different safety protocols in place. Please let us know if you have any safety requirements you'd like attendees to be aware of such as masking, capacity limits, etc. We aim to provide a safe and fun event for everyone!
Want to participate? Sign up now!